I am a big fan of large water bottles. ( Ask Dale…he teases me about the ginormous water bottle always close at hand on my desk.) Most of the larger water bottles (mine included) are the garden variety kind with the screw off, flip up, or slide lids. All perfectly functional if not a bit boring.
Last night while working on a project for a client I  stumbled upon these beauties with metal clasp lids.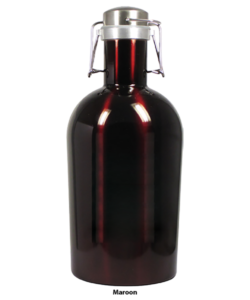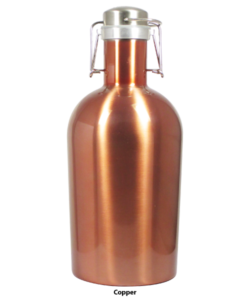 Not ordinary or boring at all! The Growlers hold 64 oz., the Howlers holds 32 oz, and both  sizes come in Stainless Steel as well as  Maroon, Black Matte, and Copper. The Glass bottle holds 1 Liter and while it only comes in glass it features "an airtight, hermetic clamp closure with a rubber gasket that keeps the contents fresh". At least that is what the blurb on it says and I have no reason to doubt.
These drink ware items are not super cheap so here is where you have to think about creative ways to use them. They can be given away at client meetings where you really are looking to make a statement or a creative first impression. Want to boost company morale? These can be given out as incentives, team building or company outings gifts. They would be perfect if your company or school offers a small retail shop.
I think the glass bottle would make creative center pieces for your next company picnic or holiday party. You could even use them as wedding decor….place settings or guest favors perhaps.
All of the above items are new and we currently don't have samples in the shop. But as always if you need us to get some just send us a comment using our new Contact Us button on the right side of the page above our social media links.
Post by Leann 1.10.17