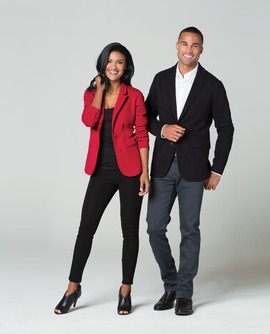 While you are working on your promotional ideas for your upcoming events have you given thought to what your crew is going to be wearing? I know, I know, one more thing you have to worry about.
Most folks usually have something they can pull together for the event in the form of a dress shirt or polo but what about after the event walking from the location back to your hotel room….what about going out to dinner after a hard day of promoting your brand? What if the convention/expo center is freezing cold during the summer months?
Fleece jackets and vests are perfect for 95% of our customers that come to us for their apparel needs at show time. What if your industry is in that other 5%?
Port Authority and Devon and Jones have both come out with blazer options for just those special occasions.
Port Authority says about their blazers "Designed for layering comfort, this easy-to-wear, deconstructed style can go from refined to casual and resist wrinkles all day long."
I couldn't have said it better myself!